Best spa and hot tub chemicals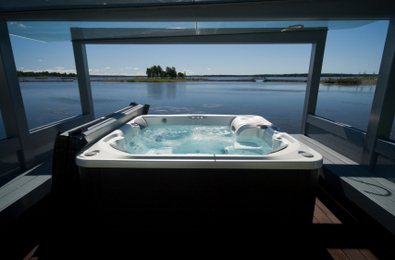 Spa and hot tub cleaning chemicals are a very important subject to learn about. This article describes the options available.
A hot tub is a relaxing feature and a luxurious upgrade to any home. But beyond the basic novelty of an indoor or outdoor spa is the reality of the regular care that is needed to keep costly hot tub equipment in the best working condition.
As a new or experienced hot tub owner, now is the perfect time to get acquainted with the right spa and hot tub chemicals to use for cleanliness, sanitation, and routine care. Although it may seem confusing at face value, using recommended spa and hot tub supplies and chemicals will make it almost effortless to maintain your spa in and out of season.
Hot tub chemicals for basic maintenance
Bromine tablets – Slow dissolving tablets to kill all types of bacteria in the water.
Perfect pH – Automatically maintains water alkalinity and pH.
Demineralizer – Prevents iron and other metals from creating buildup in spa elements.
Spa shock – Instantly raises water sanitation levels to kill foreign bacteria.
Water clarifier – Prevents cloudiness in spa water.
Hot tub chemicals for recommended maintenance
Water softener – Keeps water soft to prevent calcium hardness.
Defoamer – Kills all surface foam in the water.
PH minus – Reduces high water pH levels from 7.8-8.0
Hot tub supplies for basic maintenance
Test strips – Regularly test water to balance its chemical properties.
Bromine floater – Dispenses the proper amount of bromine into a spa.
Scumballs – Floating balls that remove body oils, lotion, and scum in the water.
Spray away cleaner – Spa and spa cover cleaner that will not affect water chemistry.
Filter cleaner – Filter cartridge cleaning solution to prolong filter life.
Hot tub supplies for recommended maintenance
Small draining pump – Used for spa drainage, recommended every 2 to 4 months.
Rubber duckie – Rubber duckie floater to hold bromine tabs for regulated dispensing.
Thermometer – Measures hot tub water temperature in Celsius or Fahrenheit.
Thermal blanket – Improves hot tub heat retention to conserve energy.
Spa scents – Aromatherapy scents to reduce stress and improve relaxation.
Small vacuum – Provides suction using air and water pressure for spa cleaning.
Filter cleaner canister – Airtight filter cleaner canister to reuse cleaning solution again and again.
Cover care – Can restore and protect spa covers from weather damage.
Spa brite wax – Aerosol spray wax to restore shine to an acrylic spa.
Based on the cleaners and accessories listed above, regular spa water changes are recommended every 2 to 4 months, along with a plumbing system flush and filter, cover, and hot tub cleaning. Water test strips can be used as needed, although some manufacturers recommend testing twice a month to keep water pH levels and total alkalinity stable.
When you stick to a regular cleaning and maintenance schedule, you can enjoy your hot tub to the fullest – for fun, clean, and safe relaxation with friends.
Compare hot tub prices »