Is a portable hot tub the right choice for you?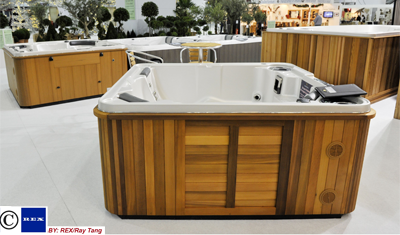 There are many benefits to choosing a portable hot tub. Find out what they are and decide if this option is right for you.
If you don't have the cash to make a major hot tub investment yet still long for a little R&R after a hard day of work, a portable hot tub may be the best option for you. Many customers consider a portable spa easier to set up and maintain compared to an in-ground tub, and the cheaper price tag certainly doesn't hurt.
Portable hot tubs versus in-ground hot tubs
There are a few differentiating factors that can help you decide between a portable or in-ground spa:
Price. Some manufacturers advertise in-ground hot tubs at as much as $20,000; portable tubs are estimated at 20% less.
Setup. A permanent in-ground spa will require a work crew to set up, including the help of plumbers and electricians; in contrast, a portable spa requires only a level surface, outdoors or indoors.
Energy efficiency. Depending on the brand, an in-ground spa has estimated monthly electrical costs at up to $80; a portable tub that plugs into a household electrical outlet may cost only $10 a month to maintain heat after setup.
Repair. Some portable spas have higher repair histories than in-ground spas, but there is a catch: In-ground spa repairs are much more expensive than portable spa repairs.
Mobility. Once you decide on a location for an in-ground spa, that's it. A portable spa is entirely mobile, though some models may be more difficult to transport than others; moving companies will also move portable spas for an extra price, often called a "bulky article charge."
Common portable spa misconceptions
Now that you understand the basic differences between a portable and in-ground spa, it helps to clear up some of the most common portable spa myths "circulating" today:
Portable tubs are lower quality. Most modern manufacturers equip portable spas with all of the bells and whistles found in in-ground spas; features may include multiple jets, hydromassage options, and height variations.
Portable tubs won't last. On the contrary, manufacturers offer the same protective warranties with portable and in-ground spas; some portable spa manufacturers advertise up to a 7 year shell service warranty, along with a 5 year warranty on leaks, heating, and components.
Portable tubs must be emptied after every use. Portable spas are built with flow-thru filtration systems that offer chemical cleaning on a continuous cycle. Manufacturers recommend that portable spas are emptied and cleaned every three months.
A basic "spa-in-a-box" may start as low as $949. Sturdier two-seat spas with 110 V electrical requirements may start at $3600. While in-ground spas have their advantages, a portable spa may be your best bet if you're looking for a cheaper alternative and aren't ready to commit to a permanent hot tub fixture in your home.
Compare hot tub prices »