ThermoSpas® hot tub prices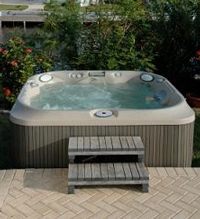 ThermoSpa offers a number of luxurious hot tub models. Find out what our users paid for these tubs.
ThermoSpas® hot tubs are at the higher end of hot tub and spa brands, often the favorite of hot tub veterans who want to upgrade their first spa purchase. Prices for ThermosSpas® tubs start at $4995 or above. A dense network of ready service and delivery staff also make the ThermoSpas brand appealing. ThermoSpas even offers a Trade-In Agreement where owners can trade in their existing ThermoSpas® hot tub for a discount on a new model. There are multiple sizes of ThermoSpas® hot tubs to choose from, each with its own set of features which can be customized. Unique to the brand is also the ThermoSpas® Aquacisor Exercise Spa ("The World's Deepest Hot Tub") and the Swim Spa Trainer. Below are a sample of prices that consumers paid for their ThermoSpas® hot tubs. Get prices on the ThermoSpas® hot tub and features that you have in mind.
ThermoSpa hot tub prices that people paid
Please Note: The following prices are example prices. The price that you may pay for your hot tub will vary depending on your location, the features you choose, installation requirements, and other factors.
"ThermoSpa for $8500."
ARKANSAS
"$7700 for ThermoSpa Park Ave 400 series."
NEW JERSEY
Compare hot tub prices »