Used hot tub prices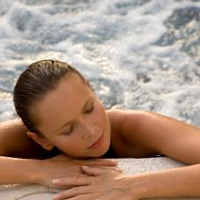 We assembled a collection of prices our buyers recently paid for used hot tubs.
A used hot tub may be a cheaper option for someone looking to purchase their first hot tub, though used hot tubs often lack a warranty and free delivery and installation services. Used hot tubs can cost between $500 to several thousand dollars. But if you enjoy a good challenge, a used hot tub may be a great option — especially if you're looking for a fully loaded hot tub that has a high retail price. People paid the following prices for used hot tubs. Get used hot tub prices for the type of hot tub you have in mind and you might just get lucky.
Used hot tub prices people paid
Please Note: The following prices are example prices. The price that you may pay for your hot tub will vary depending on your location, the features you choose, installation requirements, and other factors.
"Bought a used Solana TX (only used 10 times) from a private party for $1,500. Included one year supply of all chemicals needed and the hard cover. I was never contacted by Thermospas, Inc., so I looked elsewhere."
CALIFORNIA
"I have been offered a used ThermoSpa hot tub – for $500 – am considering this as well."
CONNECTICUT
"I found a refurbished 5 man hot tub for $2300. It's a Hot Springs Spa brand and comes with a warranty."
MICHIGAN
"Purchased a used Hot Springs 2000 model for $2000….with warranty….great buy, super helpful people and they already service our other Hot Springs hot tub."
MARYLAND
"Purchased a used 2006 Hot Springs Spa Vista for $4500. Excellent condition."
OHIO
"The used one had music and lights and a better"fountain" for $7500 (same inclusions)."
COLORADO
"$2200 dollars used (4 years old) dynasty, blower, ozone, lounge, waterfall, LED lighting, 6 person."
ALABAMA
"I bought a used one that was in excellent condition. I got a new cover, EZ lift, steps and wall mount towel rack, and one of each of the chemical needed and a new set of 4 filters. I believe my husband paid about $4,500 I can't remember the style. I think a lumnia or something like that."
GEORGIA
"$5200 for used hot tub with 1 yr blame-free guarantee, free delivery and installation and steps."
GEORGIA
"Purchased a used 2006 Hot Springs Vista for $4500. Excellent condition."
OHIO
Compare hot tub prices »