Your complete guide to the hot tub installation process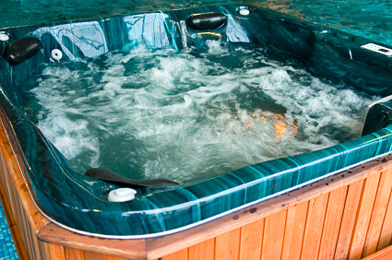 This intro guide will walk you through what to expect post-delivery. From electric to plumbing, this guide will get you prepared.
So you've finally taken the plunge, so to speak. You've bought the hot tub of your dreams as an impressive upgrade to your home or backyard! But before the fun can begin, a proper hot tub installation is necessary to help you avoid any hookup errors that could cause safety issues in your new prized spa.
Spa installation 101: where to begin
The odds are that you have probably scoped out the perfect location for your indoor or outdoor hot tub before making the final purchase. Most popularly, hot tubs are used outdoors in any season. Additionally, the size and style of spa that you choose may also be dictated by how many people will use the tub on average, as well as the space available.
New Installed Hot Tub
Your hot tub seating capacity may hinge on how many people will enjoy the spa at any given time. For example, if you have a family of four, you may prefer a hot tub that accommodates six or eight people to host several friends.
From there, it's time to scout location, location, location. Although it may seem simple to choose the best location for a hot tub on an outdoor deck, it's important to consider accessibility, electrical proximity, desired privacy, and – of course – the picturesque view you will see while relaxing.
How long does spa installation take?
After you have the ideal location mapped out for your hot tub, installation can begin. In order to properly install a new spa, it may be in your best interest to consult an electrician for efficient installation and safety precaution.
While you will be relying on an experienced electrician with knowledge of spa installation, it's still critical to provide:
A solid foundation for the spa
An adequate power outlet
A hose pipe to fill the hot tub
These three components will ensure a smooth transition and will reduce the risk of operational issues that could cost hundreds of dollars in maintenance in the future.
Based on manufacturer specifications, an electrician will be able to ensure a safe hookup, taking into account voltage, amps, and wiring. Many leading hot tubs often require a 240 V circuit with two slots in the electrical box to connect to a double pole breaker. Most homes should be able to accommodate this electrical configuration.
Depending upon the time needed for electrical hookup, a complete installation with filling could take a minimum of two hours, if not more. The speed to fill a hot tub will depend upon the size of hose pipe used and the water pressure of your home.
If time is a concern, don't go it alone when installing a hot tub for the first time. Make sure to consult with a skilled electrician and prepare the area well in advance for the quick installation, connection, and filling of your spa.
As one final consideration – keep in mind that it could take up to 20 hours to fully heat a generous sized spa. If you're planning a hot tub party or another special celebration, plan to install your spa at least 24 hours in advance.
Compare hot tub prices »