Hot tub prices with Ozonator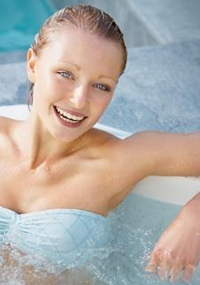 An ozonator can reduce the cost of chemicals needed. Find out what our users paid for this option.
A hot tub Ozonator decreases the amount of chemicals you will need to keep your hot tub clean and sanitary. The cost of a hot tub with an Ozonator is sometimes over $7000. Most hot tub brands offer Ozonators as an additional feature for their hot tub models. Ozonators are popular because they decrease your spa chemicals cost, cause less skin irritation than chlorine, will not make your skin and hair smell like chemicals, and can decrease the amount of times you need to drain your spa for a cleaning. Ozonators use an ultraviolet light bulb to purify oxygen in the water. Most people purchase hot tubs with an Ozonator included to avoid installing it themselves and to avoid paying $70 to over $200 to buy an Ozonator separately. Prices for hot tubs with an Ozonator are below. Get your own prices for a hot tub with an Ozonator and for any other features you'd like your hot tub to have.
The cost of a hot tub with an Ozonator
Please Note: The following prices are example prices. The price that you may pay for your hot tub will vary depending on your location, the features you choose, installation requirements, and other factors.
"$8595 for a Caldera Tahitian with Ozonator, mineral dispenser, lighting, cover, cover lift mechanizm, steps, GFCI, setup, chemicals, delivery and installation."
CALIFORNIA
"$8400 for Jacuzzi J-365 with cover, lift for the hot tub cover, steps, Ozonator, and stereo."
PENNSYLVANIA
"$8600.00 included a Jacuzzi J-375 hot tub with easy lift/lock hot tub cover, steps, electrical, set up, delivery, Ozonator, silver escutchons, LED lighting from LED ProLites, spa chemicals, extra neck pillow, rubber duckies, 3-4 person, free-standing outdoors hot tub."
CALIFORNIA
"Jacuzzi J-355 hot tub, fully loaded with exception of stereo was $8900 tax included; outdoor built-in, 5-6 person, with lighting, 1 lounger, energy-efficient, with an Ozonator."
NORTH CAROLINA
"$9195 for a Caldera Geneva including hot tub steps, Oxonator, hot tub cover and lift, set up and delivery, and spa start up pack."
VIRGINIA
Compare hot tub prices »