Hot tub prices with music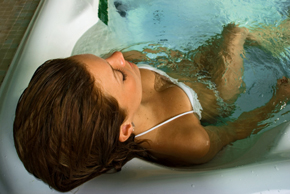 Here is a collection of prices our buyers recently paid for hot tubs equipped with music systems.
Listening to music in the hot tub can get dangerous — that is, if you don't have a safe way to listen to it! It's not a pretty picture to imagine accidentally dropping your CD player, iPod speakers, iPhone or iPod into your hot tub. You can buy a hot tub with music for anywhere between $3000 and over $9000. There are several brands that offer hot tub music systems so you can safely control your music with a waterproof controller. Most hot tub brands support iPod and Apple products as well. Hot tub prices that include a music system are listed below. Get prices for hot tubs with music and other features that you have in mind.
The cost of a hot tub with music
Please Note: The following prices are example prices. The price that you may pay for your hot tub will vary depending on your location, the features you choose, installation requirements, and other factors.
"3000.00 Dynasty Neptune therapeutic with surround lights, music system, very nice."
GEORGIA
"$4450 for a 6 person hot tub with 103 jets, 12 pumps, hydrotherapy, Ozonator, and TV/stereo."
NEVADA
"$8400 for Jacuzzi J-365 with cover, lift, steps, Ozonator, and stereo."
PENNSYLVANIA
"The used one had music and lights and a better"fountain" for $7500 (same inclusions)."
COLORADO
"$6500 for a 6 person 7 foot by 7 foot Hawkeye Spa with music system and colored lights."
TENNESEE
"$7499 6 person lounger. 121 jets, 19 inch DVD/CD HDTV, cover, stainless steel jets."
LOUISIANA
"Paid $6500 for a 6 person 7 ft by 7 ft Hawkeye Spa with music system and colored lights."
TENNESSEE
Compare hot tub prices »