Free standing hot tub prices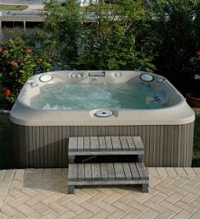 A freestanding hot tub is the standard build-type. Find out what others are paying for freestanding hot tubs.
A free standing hot tub is the standard in the hot tub market — the other option being the built-in hot tub, which can be much more expensive to buy and install. Free standing hot tubs can cost anywhere from $3000 to over $10,000 depending on the brand and features you choose. Free standing hot tubs range in size from 2 person hot tubs to ones that accommodate 8 or more people. They can be the most basic hot tub to the most fully loaded, with music, lounge seats, colorful waterfalls, and multicolor lighting. Prices people paid for their free standing hot tubs are below. Request free standing hot tub prices for the size and features that you have in mind.
Freestanding hot tub prices that people paid
Please Note: The following prices are example prices. The price that you may pay for your hot tub will vary depending on your location, the features you choose, installation requirements, and other factors.
"Jacuzzi J-280 hot tub for $6000; 5-6 person free-standing outdoors."
CALIFORNIA
"$8600.00 included a Jacuzzi J-375 hot tub with easy lift/lock hot tub cover, steps, electrical, set up, delivery, Ozonator, silver escutcheons, LED lighting from LED ProLites, spa chemicals, extra neck pillow, rubber duckies, 3-4 person, free-standing outdoors hot tub."
CALIFORNIA
"We bought a free-standing outdoor Jacuzzi hot tub, 5-6 person, with a locking cover for $8000."
CALIFORNIA
Compare hot tub prices »