2 person hot tub prices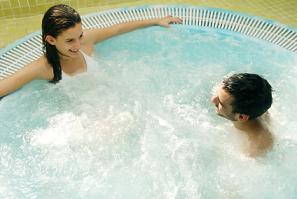 Two-person spas can be an affordable option and offer a relaxing and intimate experience. See what our users recently paid for this style tub.
An economic option in buying a hot tub can be a 2 person hot tub or 2 person spa, also known as a "small hot tub." 2 person hot tubs can cost between $2000 and $4000. Small hot tubs are a popular choice for an indoor hot tub because they can be small enough to fit through a doorway. There are several brands that sell small hot tubs, including Hot Springs, Jacuzzi Hot Tubs, Sundance, and Marquis. For a glimpse of what you might pay for 2 person hot tub prices, see the below sample of prices. Request 2 person hot tub prices for the hot tub you have in mind.
2 person hot tub prices that people paid
Please Note: The following prices are example prices. The price that you may pay for your hot tub will vary depending on your location, the features you choose, installation requirements, and other factors.
"Caldera Spas Aventine 2 person hot tub, fully loaded with full warranty and lifetime service included – $4000."
VIRGINIA
"$3500 for a Caldera Aventine spa with a hot tub cover, steps, delivery, setup, and starter chemical kit."
NEBRASKA
"Cal Spa 2 person, Paid $3411 including delivery, cover and steps."
CALIFORNIA
"2 person spa – $10,000."
MINNESOTA
"Capri 2 person, 8 jet spa from Home Depot. Cost with delivery and setup was $1999.00"
KENTUCKY
"Malibu 2 person in cedar lifetime warranty on everything to include shipping of repair parts. 15″ DVD LCD light therapy ionizer."
SOUTH CAROLINA
Compare hot tub prices »