Large (8 or more person) hot tub prices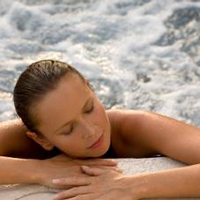 A collection of prices our users recently received on large-sized hot tubs.
There are a range of different reasons for looking for a large hot tub. In the hot tub industry, "large hot tub" usually refers to seating — a tub that can accomodate 8 or more people. Large hot tubs cost anywhere between $5500 to over $10,000. However, people who are tall also look for large hot tubs because they sometimes are deeper than 5 person hot tubs, and some lounge seats can be deeper and more comfortable for a larger person. Some brands that sell large hot tubs are Artic Spas, Caldera Spas, Hot Springs, Jacuzzi, Sundance, and D1 Spas. Because of their size, large hot tubs can be more expensive than other sizes of hot tubs; but with a little bit of research, you can sometimes find a good deal. A sample of large hot tub prices is below; get large hot tub prices for the hot tub that you desire.
The cost of a large 8 or more person hot tub
Please Note: The following prices are example prices. The price that you may pay for your hot tub will vary depending on your location, the features you choose, installation requirements, and other factors.
"Bought a Jacuzzi J-280 large hot tub with free steps, free lift, free cover, free insert that resembles a maraca that goes inside the filter, free outside lights and free chemicals; all for about $5,800 without taxes. Also received free delivery. It seats 7."
MARYLAND
"I purchased a 6+ person Jacuzzi J-470 large hot tub that included a hot tub cover, cover lifter, stairs, chemicals, delivery set up and tutorial on getting started for $10,000."
MASSACHUSETTS
"We needed a large Jacuzzi hot tub. Ours ended up being $8,400 for Jacuzzi J-365 with cover, lift, steps, ozonator, and stereo."
PENNSYLVANIA
"Jacuzzi J-280 large hot tub for $6,000; 5-6 person free-standing outdoors tub."
CALIFORNIA
"$8,600, which included a Jacuzzi J-375 large hot tub with easy lift/lock cover, steps, electrical, set up, delivery, ozonator, silver escutcheons, LED lighting, spa chemicals, extra neck pillow, 3-4 person, free-standing outdoors hot tub."
CALIFORNIA
Compare hot tub prices »