Hot tub prices with cover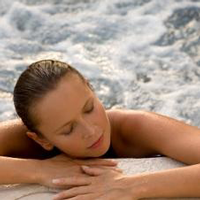 Hot tub covers protect your tub from the elements. Read more about pricing on this essential feature.
When you're buying a hot tub, ask about including the cost of the hot tub cover in your final price. Hot tub cover prices aren't a significant portion of the cost of the hot tub — but they can really make a difference in your overall expenses. For a hot tub that includes a cover, you can spend anywhere between $3000 to $10,000. Besides being an important safety feature when it comes to kids and pets, hot tub covers can insulate your hot tub and save you heating costs when you're not using the tub. Buying a hot tub cover separately from your hot tub can cost you between $50 and several hundred dollars. It's quite common to buy a hot tub with a hot tub cover included in the price — see below for prices people paid for hot tubs that included covers. Get your own hot tub with cover prices for the size and features you'd like in your hot tub.
Hot tubs with cover prices that people paid
Please Note: The following prices are example prices. The price that you may pay for your hot tub will vary depending on your location, the features you choose, installation requirements, and other factors.
"$8595 for a Caldera Tahitian with Ozonator, mineral dispenser, lighting, cover, cover lift mechanizm, steps, GFCI, setup, chemicals, delivery and installation."
CALIFORNIA
"$8400 for Jacuzzi J-365 with a cover for the hot tub, lift, steps, Ozonator, and stereo."
PENNSYLVANIA
"Mira Model 6000, 6×6′, 45 jets, headrests, seats 6 people – $4200 including cover, steps, chemicals, and delivery. Super deal."
NEW YORK
"$3500 for a Caldera Aventine spa with a hot tub cover, steps, delivery, setup, and starter chemical kit."
NEBRASKA
"$8600.00 included a Jacuzzi J-375 hot tub with easy lift/lock hot tub cover, steps, electrical, set up, delivery, Ozonator, silver escutchons, LED lighting, spa chemicals, extra neck pillow, rubber duckies, 3-4 person, free-standing outdoors hot tub."
CALIFORNIA
"$7495 for a Hot Springs 6 person tub, with easy lift cover and silk balance system."
CALIFORNIA
"$9195 for a Caldera Geneva including hot tub steps, Oxonator, hot tub cover and lift, set up and delivery, and spa start up pack."
VIRGINIA
"Jacuzzi J-280 hot tub with free steps, free lift, free hot tub cover, free insert that resembles a maraca that goes inside the filter (don't know the name), free outside lights and free chemicals, all for about $5800.00 without taxes. Also free delivery, it seats 7."
MARYLAND
"I purchased a 6+ person Jacuzzi J-470 hot tub that included a hot tub cover, cover lifter, stairs, chemicals, delivery set up and tutorial on getting started for $10,000."
MASSACHUSETTS
"We bought a free-standing outdoor Jacuzzi hot tub, 5-6 person, with a locking hot tub cover for $8000."
CALIFORNIA
Compare hot tub prices »