Hot tub prices with lift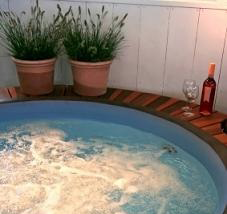 Lift systems can make removing your hot tub cover a snap. See what our users recently paid for this convenient accessory.
It's a tad counterproductive to prepare for a therapeutic soak in the hot tub by throwing your back out when you lift a hot tub cover. A spa cover lift (also known as a hot tub cover lift) is a metal hinge that makes removing a heavy, water-logged spa cover less painful. Buying a hot tub with a spa cover lift included can save you from paying $50 to $300 for a lift, and can be installed when you have your hot tub delivered and installed. Prices that people paid for a hot tub with a spa cover lift included are below. Get prices for a hot tub with a lift and for any other features that you have in mind.
The cost of a hot tub with a cover lift
Please Note: The following prices are example prices. The price that you may pay for your hot tub will vary depending on your location, the features you choose, installation requirements, and other factors.
"Jacuzzi J-280 hot tub with free steps, free lift for the hot tub cover, free cover, free insert that resembles a maraca that goes inside the filter (don't know the name), free outside lights and free chemicals, all for about $5800.00 without taxes. Also free delivery, it seats 7."
MARYLAND
"$7495 for a Hot Springs 6 person tub, with easy lift cover and silk balance system."
CALIFORNIA
"$8400 for Jacuzzi J-365 with cover, lift for the hot tub cover, steps, Ozonator, and stereo."
PENNSYLVANIA
"I purchased a 6+ person Jacuzzi J-470 hot tub that included a hot tub cover, cover lifter, stairs, chemicals, delivery set up and tutorial on getting started for $10,000."
MASSACHUSETTS
"$8595 for a Caldera Tahitian with Ozonator, mineral dispenser, lighting, cover, cover lift mechanizm, steps, GFCI, setup, chemicals, delivery and installation."
CALIFORNIA
Compare hot tub prices »