Hot tub prices with lighting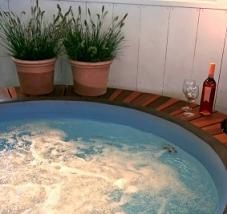 A variety of lighting options are available to illuminate your tub in the evening hours. Find out what others are paying for this feature.
Whether you're seeking the Hot Tub Time Machine effect or you just want a cool way to entertain your guests, hot tub lighting may be a feature that you'll love. Hot tubs with lighting can cost anywhere between $5000 and $10,000. Several brands, including Artesian Spas, Hot Springs, and Caldera Spas, offer multi-color spa lighting entertainment systems. Prices for hot tubs with lighting are below. Get your own prices for hot tubs with lighting and any other features that you're hoping for.
The cost of a hot tub with lighting features
Please Note: The following prices are example prices. The price that you may pay for your hot tub will vary depending on your location, the features you choose, installation requirements, and other factors.
"Jacuzzi J-325 was $5000 and included a hot tub lighting system called LED ProLites."
OHIO
"Jacuzzi J-280 hot tub with free steps, free lift, free cover, free insert that resembles a maraca that goes inside the filter (don't know the name), free outside lighting and free chemicals, all for about $5800.00 without taxes. Also free delivery, it seats 7."
MARYLAND
"$8595 for a Caldera Tahitian with Ozonator, mineral dispenser, lighting, cover, cover lift mechanizm, steps, GFCI, setup, chemicals, delivery and installation."
CALIFORNIA
"$6500 for a 6 person 7 foot by 7 foot Hawkeye Spa with music system and colored lights."
TENNESEE
"$8400 for Jacuzzi J-365 with cover, lift, a lighting system for the hot tub, steps, Ozonator, and stereo."
PENNSYLVANIA
"$8600.00 included a Jacuzzi J-375 hot tub with easy lift/lock hot tub cover, steps, electrical, set up, delivery, Ozonator, silver escutchons, LED lighting for the hot tub from LED ProLites, spa chemicals, extra neck pillow, rubber duckies, 3-4 person, free-standing outdoors hot tub."
CALIFORNIA
"Jacuzzi J-355 hot tub, fully loaded with exception of stereo was $8900 tax included; outdoor built-in, 5-6 person, with LED ProLites System for lighting, 1 lounger, energy-efficient, Ozonator."
NORTH CAROLINA
Compare hot tub prices »