Hot tub prices with delivery and setup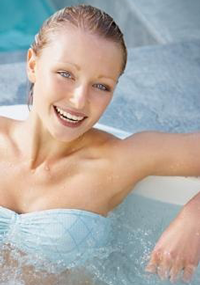 Finding a supplier who will deliver and setup your hot tub is a convenient option. See what our users recently paid for these services.
I think we can all agree that the thought of moving and installing a hot tub might just be one of the worst DIY experiences in life (other than accidentally bedazzling one's own finger). And then there's the prospect of electrocuting yourself while you hook up the wires… Thankfully, the cost of hot tub delivery and installation is often included in the price of a hot tub. Tubs that include delivery and installation can cost between $3000 and $10,000. Take a look at the following prices that people paid for a hot tub that included delivery and setup. Get your own prices on hot tubs with delivery and with any other features you'd like your hot tub to have.
The cost of a hot tub with delivery and set up
Please Note: The following prices are example prices. The price that you may pay for your hot tub will vary depending on your location, the features you choose, installation requirements, and other factors.
"$9195 for a Caldera Geneva including hot tub steps, Oxonator, hot tub cover and lift, set up and delivery, and spa start up pack."
VIRGINIA
"I purchased a 6+ person Jacuzzi J-470 hot tub that included a hot tub cover, cover lifter, stairs, chemicals, hot tub delivery set up and tutorial on getting started for $10,000."
MASSACHUSETTS
"6-7 person hot tub – the Sundance Spa Chelsee, was $7999. Came with 2 pumps, Ozonator, silver ion filter, free delivery and setup, and a free chemical kit."
UTAH
"Mira Model 6000, 6×6′, 45 jets, headrests, seats 6 people – $4200 including cover, steps, chemicals, and delivery. Super deal."
NEW YORK
"$8595 for a Caldera Tahitian with Ozonator, mineral dispenser, lighting, cover, cover lift mechanism, steps, GFCI, setup, chemicals, delivery and installation."
CALIFORNIA
"Jacuzzi J-280 hot tub with free steps, free lift, free cover, free insert that resembles a maraca that goes inside the filter (don't know the name), free outside lights and free chemicals, all for about $5800.00 without taxes. Also free hot tub delivery, it seats 7."
MARYLAND
"$3500 for a Caldera Aventine spa with a hot tub cover, steps, delivery, setup, and starter chemical kit."
NEBRASKA
"$8600.00 included a Jacuzzi J-375 hot tub with easy lift/lock hot tub cover, steps, electrical, set up, delivery, Ozonator, silver escutchons, LED lighting from LED ProLites, spa chemicals, extra neck pillow, rubber duckies, 3-4 person, free-standing outdoors hot tub."
CALIFORNIA
Compare hot tub prices »