Hydrotherapy hot tub prices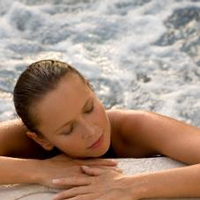 A guide to the benefits of hydrotherapy as well as a collection of price quotes our users recently received on hydrotherapy tubs.
Hot tubs and spas have long been associated with hydrotherapy ever since the Jacuzzi brothers invented the first hot tub. Hydrotherapy hot tubs range in cost from $4000 to $9000. Hot tub hydrotherapy can be a soothing way to treat pain associated with arthritis, Diabetes, headaches, digestive issues, sports injuries, and more. Some hot tub brands specialize in hydrotherapy features such as additional jets, control systems for positioning the jets, and lounger seats. Caldera Spas, Hot Springs Spas, Jacuzzi Hot Tubs, Beachcomber, Arctic Spas, and several other hot tub brands offer hydrotherapy features on some of their hot tub models. See below for a sample of hydrotherapy hot tub prices. Request your own hot tub prices for hydrotherapy.
The cost of a hydrotherapy hot tub
Please Note: The following prices are example prices. The price that you may pay for your hot tub will vary depending on your location, the features you choose, installation requirements, and other factors.
"$8400 for Jacuzzi J-365 with cover, lift, steps, Ozonator, and stereo. We also wanted the hydrotherapy so ours came with five PowerPro Therapy seats and 1 FX 10 Therapy seat."
PENNSYLVANIA
"Our Jacuzzi J-325 with PowerPro FX Jets for hydrotherapy was $5000."
OHIO
"$6500. We purchased a Hot Springs Spa."
VIRGINIA
"$4450.00 – 6 person, 103 jets, 12HP pumps, hydrotherapy, Ozonator, TV /stereo etc."
NEVADA
"$5696 7 person, lounger, full body massage, 84 jet, abundant lighting, stereo, cover, steps, circ pump."
MISSISSIPPI
"$4995. jets: 1 jet stream, 2 rotary hydro massage, 3 directional hydro massage, 10 directional, light, insulated vinyl cover with EZ lifter, ozone system, chemicals, warranties: 7 year shell, 5 year no leak plumbing, components heater, 3 year cabinet. 1 year light, removed old spa delivered new."
CALIFORNIA
Compare hot tub prices »