Medium (6-7 person) hot tub prices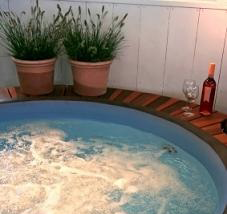 This is a collection of prices our buyers recently received on medium-sized hot tubs.
A medium hot tub includes 5 person hot tubs, 6 person hot tubs, and 7 person hot tubs. 5 person hot tubs are a popular choice because they're just the right size for families and for entertaining guests, and can be had for $5000 to $11,000. Most brands offer 6 person hot tubs that can range in price from $2400 to $8000. Depending on your wants and needs, you can choose a fully loaded hot tub with hydrotherapy jets and loungers, or you can keep it simple with a lower number of jets and regular deep seats. The following prices are what consumers paid for their 5 person hot tubs. Request your own 5 person hot tub prices for the spa features that you have in mind.
The cost of a medium 6-7 person hot tub
Please Note: The following prices are example prices. The price that you may pay for your hot tub will vary depending on your location, the features you choose, installation requirements, and other factors.
"Our Jacuzzi J-325 was $5000."
OHIO
"6-7 person hot tub – the Sundance Spa Chelsee, was $7999. Came with 2 pumps, Ozonator, silver ion filter, free delivery and setup, and a free chemical kit."
UTAH
"We paid $7000 for the 6 person Park Avenue. It was originally $10,000."
FLORIDA
"$4450 for a 6 person hot tub with 103 jets, 12 pumps, hydrotherapy, Ozonator, and TV/stereo."
NEVADA
"Mira Model 6000, 6×6′, 45 jets, headrests, seats 6 people – $4200 including cover, steps, chemicals, and delivery. Super deal."
NEW YORK
"The total was $2495 for our Oasis Spas 6 person hot tub."
MINNESOTA
"$7499 6 person lounger. 121 jets, 19 inch DVD/CD HDTV, cover, stainless steel jets."
LOUISIANA
"$7495 for a Hot Springs 6 person tub, with easy lift cover and silk balance system."
CALIFORNIA
"6 person, 32 jets, energy efficient, free shipping, for $3299. The brand is Great Escape Spa Solstice."
KENTUCKY
"$6500 for a 6 person 7 foot by 7 foot Hawkeye Spa with music system and colored lights."
TENNESEE
"Jacuzzi J-355 hot tub, fully loaded with exception of stereo was $8900 tax included; outdoor built-in, 5-6 person, with lighting, 1 lounger, energy-efficient, Ozonator."
NORTH CAROLINA
"We bought a free-standing outdoor Jacuzzi hot tub, 5-6 person, with a locking cover for $8000."
CALIFORNIA
"$3900 for a 5 person hot tub a supplier had on his showroom that had been there for a while."
GEORGIA
"$7000 for a 46 jet with lounger 5 person, LED lights and large waterfall, cover with attachment for 1 person to use and steps."
WASHINGTON
"$10,900.00 for there top of the line 5 person model."
NORTH CAROLINA
"$8,000; 5 person tub w/ 22 jets, cover, starter kit for chemicals, delivery, installation, discount for paying in full."
MISSOURI
Compare hot tub prices »