High-tech hot hubs combine technology with luxury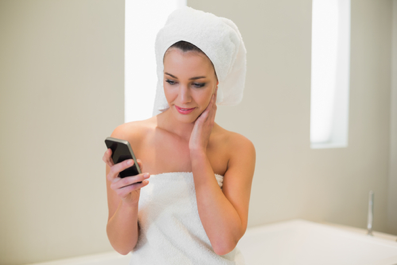 Find out how hot tub apps can enhance your tub experience.
Today's "smart technology" allows us to switch on the heating in our homes while still at our office by simply using our smart phones. Well, now we'll be able to do the same with our hot tubs and swim spas. In fact, since 2013, all hot tubs and spas have been manufactured with Wi-Fi capability.
The two main players in the hot tub app industry are software manufacturers Balboa and Gecko. Swim spa manufacturers who work with the Balboa Worldwide App (bwa™) include Cal Spas, Marquis Spas, Arctic Spas and Master Spa for its Michael Phelps legend series. The app, which is optimized for iPhone 5, only works with a Wi-Fi enabled Balboa system.
Gecko is the company behind Hydropool's iCommand system using the in.touch™ application. In addition, Sundance have developed their own app, SunSmart. It's iOS enabled with connectivity for up to 100 feet. Bullfrog Spas have also developed their own exclusive app (Cloud Control™) for their new A & R series spas. It works with iOS or android devices, including tablets
Hot tub app benefits
A hot tub app not only allows you to control the temperature, but also allows you to monitor the tub when it's not in use. So if you're away from your home for an extended period of time, and the app indicates there's a problem with the hot tub (such as a power outage), you can get an engineer out to fix it before you return. This could prevent costly damage to the tub.
Some apps (such as the Sundance) remind you when it time to have maintenance work done or change the filtration systems. Filtration systems, lights, the pumps, music, heating in your spa can all be adjusted remotely. You can even program the filtration systems to work while you're sleeping.
The apps are user-friendly and available at no extra cost to the homeowner.
Disadvantages
With advanced technology there may come a few disadvantages. For instance, Balboa app users report that the app will work for a few days then go offline. To get it working again, the power on the hot tub has to be rebooted which is time-consuming and a bit of a nuisance.
In addition, if you do plan on using the app while in the hot tub, it's important to get a waterproof case for your phone.
Using a hot tub app is the like putting the cherry on top of your sundae; it adds extra enjoyment to your already luxurious experience. Most manufacturers incorporate the technology into overall costs so there is no additional fee. All you have to decide is which hot tub you want.
Compare hot tub prices »