Sundance Spa prices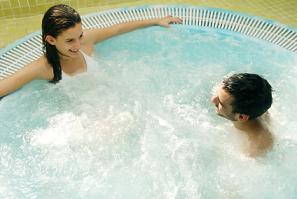 A number of luxury hot tub accessories are offered by Sundance Spas. Find out what our users recently paid for these tubs.
Sundance Spas are unique in that each model offers hydrotherapy benefits, from the fun 680 series to the luxury 880 series spa hot tubs. Though lower on the price spectrum, choosing a hot tub from the 680 series line will not limit you to basic hot tub features; luxury add-ons like waterfalls, beverage holders and pillow headrests come standard to all models, and you can even supplement your hot tub with Custom Luxury features like a stereo with in-spa speakers, a 24-hour circulation pump, and LED lighting. In the luxury 880 series, you and your family can enjoy aromatherapy, professional-caliber hydromassage jets, and backlit AquaTerrace waterfalls that sundance send water cascading smoothly over your shoulders and back.
Sundance Spa prices that people paid
Please Note: The following prices are example prices. The price that you may pay for your hot tub will vary depending on your location, the features you choose, installation requirements, and other factors.
"Sundance Spa model Optima. We got the Ultimate Package which included the JBL stereo, CD Ozone, Cover, Cover Lift, Smart Steps, delivery and set up, chemicals and accessories like aromatherapy fragrances, drink tray. We paid $12,999 for the total package."
– Wichita Falls, Texas
"$8400 for a Sundance 8×8′ 2-motor tub."
– San Jose, California
"Sundance Chelsee was $8900, with a stereo, cover, deluxe steps, towel, scent, booster seat, delivery, installation, and 5 year warranty."
– Salt Lake City, Utah
"$7,000+ for a Sundance hot tub."
– Marietta, Georgia
"$6495, Sundance Spa, 4 seater, ozone, stainless jet covers, startup kit, delivery and removal of old hot tub."
– Arcata, California
"Hawthorne Sundance Spa tub, graphite shell, mahogany skirt, starter kit, spa care book, 36″ mahogany step, covermate 2 understyle, stainless steel jets, ozonator, 2 extra cartridge filters, delivery set up wired to our disconnect. $6,800.00 + tax, $300.00 deposit, $6908 balance."
– Stroudsburg, Pennsylvania
"$12,700 stereo 6 seats sundance cameo 7 yr warranty."
– Stroudsburg, Pennsylvania
"$2900 for a 2003 Sundance tub, cover with lifter, new filter, new pump, steps, delivered, chemicals."
– Nampa, Idaho
"Sundance Spa Chelsee $7999 – cover and cover lifter, delivery and installation, steps, maintenance supplies for 1 year."
– Salt Lake City, Utah
"$7999, Sundance Spa Chelsee, 6-7 person hot tub, 39 jets, 2 pumps, ozonator, silver ion filter, free delivery and set up, free chemical kit."
– Salt Lake City, Utah
Compare hot tub prices »